Team Development Services
Successful salespeople are self-motivated, focused, and have crystallized goals. They enjoy interacting with people and understand the importance of the desire to be of service. In addition, they know the "basics" of professional selling.LMI's Effective Selling Strategies program helps individuals:
Learn the art of prospecting
Prepare an effective presentation
Recognize buying signals and discover prime buying motives
Become an expert closer
Deliver exceptional customer service
Request More Information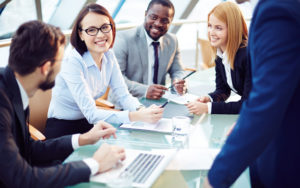 When a team works effectively and efficiently, everyone wins. A successful team is truly an example of synergy at work – that is, accomplishing more as a team then individuals could by working alone. Individuals and organizations are discovering that, if applied wisely, the practice of teamwork can bring greater success and satisfaction in all realms of achievement – personal and professional.
LMI's Effective Team Dynamics program helps team members:
Develop high-performance teamwork
Work together to achieve team goals
Assume responsibility and accountability
Handle challenges through team communication
Create mutual trust, support, and collaboration
Request More Information